Ron Paul
April 29, 2013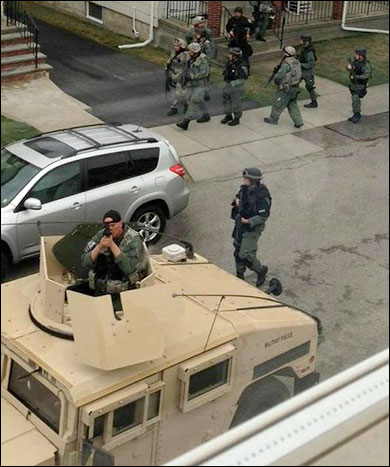 Forced lockdown of a city. Militarized police riding tanks in the streets. Door-to-door armed searches without warrant. Families thrown out of their homes at gunpoint to be searched without probable cause. Businesses forced to close. Transport shut down.
These were not the scenes from a military coup in a far off banana republic, but rather the scenes just over a week ago in Boston as the United States got a taste of martial law. The ostensible reason for the military-style takeover of parts of Boston was that the accused perpetrator of a horrific crime was on the loose. The Boston bombing provided the opportunity for the government to turn what should have been a police investigation into a military-style occupation of an American city. This unprecedented move should frighten us as much or more than the attack itself.
What has been sadly forgotten in all the celebration of the capture of one suspect and the killing of his older brother is that the police state tactics in Boston did absolutely nothing to catch them. While the media crowed that the apprehension of the suspects was a triumph of the new surveillance state – and, predictably, many talking heads and Members of Congress called for even more government cameras pointed at the rest of us – the fact is none of this caught the suspect. Actually, it very nearly gave the suspect a chance to make a getaway.
The "shelter in place" command imposed by the governor of Massachusetts was lifted before the suspect was caught. Only after this police state move was ended did the owner of the boat go outside to check on his property, and in so doing discover the suspect.
No, the suspect was not discovered by the paramilitary troops terrorizing the public. He was discovered by a private citizen, who then placed a call to the police. And he was identified not by government surveillance cameras, but by private citizens who willingly shared their photographs with the police.
As journalist Tim Carney wrote last week:
"Law enforcement in Boston used cameras to ID the bombing suspects, but not police cameras. Instead, authorities asked the public to submit all photos and videos of the finish-line area to the FBI, just in case any of them had relevant images. The surveillance videos the FBI posted online of the suspects came from private businesses that use surveillance to punish and deter crime on their property."
Sadly, we have been conditioned to believe that the job of the government is to keep us safe, but in reality the job of the government is to protect our liberties. Once the government decides that its role is to keep us safe, whether economically or physically, they can only do so by taking away our liberties. That is what happened in Boston.
Three people were killed in Boston and that is tragic. But what of the fact that over 40 persons are killed in the United States each day, and sometimes ten persons can be killed in one city on any given weekend? These cities are not locked-down by paramilitary police riding in tanks and pointing automatic weapons at innocent citizens.
This is unprecedented and is very dangerous. We must educate ourselves and others about our precious civil liberties to ensure that we never accept demands that we give up our Constitution so that the government can pretend to protect us.
Former Congressman Paul's article first appeared at the-free-foundation.org, the temporary home for his weekly column until his personal web page is up and running.
This week, as Americans were horrified by the attacks in Boston, both houses of Congress considered legislation undermining our liberty in the name of "safety." Gun control continued to be the focus of the Senate, where an amendment expanding federal "background checks" to gun show sales and other private transfers dominated the debate. While the background check amendment failed to pass, proponents of gun control have made it clear they will continue their efforts to enact new restrictions on gun ownership into law.
While it did not receive nearly as much attention as the debate on gun control, the House of Representatives passed legislation with significant implications for individual liberty: the Cyber Intelligence Sharing and Protection Act (CISPA). CISPA proponents claim that the legislation is necessary to protect Americans from foreign "cyber terrorists," but the real effect of this bill will be to further erode Americans' online privacy.
Under CISPA, Internet corporations are authorized to hand over the private information of American citizens to federal agents, as long as they can justify the violation of your privacy in the name of protecting "cyber security". Among the items that may be shared are your e-mails, browsing history, and online transactions.
Like the PATRIOT Act, CISPA violates the fourth amendment by allowing federal agencies to obtain private information without first seeking a warrant from a federal judge. The law also allows federal agencies to pass your information along to other federal bureaucrats — again without obtaining a warrant. And the bill provides private companies with immunity from lawsuits regardless of the damage done to anyone whose personal information is shared with the government.
CISPA represents a troubling form of corporatism, where large companies cede their responsibility to protect their property to the federal government, at the expense of their customers' privacy and liberty. In this respect, CISPA can be thought of as an electronic version of the Transportation Security Administration, which has usurped the authority over airline security from private airlines. However, CISPA will prove to be far more invasive than even the most robust TSA screening.
CISPA and the gun control bill are only the most recent examples of politicians manipulating fear to con the people into giving up their liberties. Of course, the people are told the legislation is for "limited purposes," but authority granted to government is rarely, if ever, used solely for the purpose for which it is granted. For example, the American people were promised that the extraordinary powers granted the government by the PATRIOT Act would only be used against terrorism. Yet soon after the bill became law, reports surfaced that it was being used for non-terrorism purposes. In fact, according to data compiled by the American Civil Liberties Union, 76 percent of the uses of the controversial "sneak-and-peak" warrants where related to the war on drugs!
Sadly, I expect this week's tragic attacks in Boston to be used to justify new restrictions on liberty. Within 48 hours of the attack in Boston, at least one Congressman was calling for increased use of surveillance cameras to expand the government's ability to monitor our actions, while another Senator called for a federal law mandating background checks before Americans can buy "explosive powder."
I would not be surprised if the Transportation Security Administration uses this tragedy to claim new authority to "screen" Americans before they can attend sporting or other public events. The Boston attack may also be used as another justification for creating a National ID Card tied to a federal database with "biometric" information. The only thing that will stop them is if the American people rediscover the wisdom of Benjamin Franklin that you cannot achieve security by allowing government to take their liberties.
Former Congressman Paul's article first appeared at the-free-foundation.org, the temporary home for his weekly column until his personal web page is up and running.
The right of the people to keep and bear arms is a critical ingredient of a free society. The Founders understood this, which is why they gave us the Second Amendment to the United States Constitution.
Today, there is an incremental attack on the Second Amendment.
Arizona Senator John McCain and other Republicans are lining up to support anti-Second Amendment legislation. He cited a misleading Quinnipiac University poll that says 9 out of 10 of those surveyed want to rollback the Second Amendment. Half of those polled also said background checks will lead to firearm confiscation.
Appearing on NBC's Meet the Press on Sunday, Utah Republican Senator Mike Lee said, "Following the tragedy at Sandy Hook, Americans have been rightfully focused on how to prevent such tragedies from occurring in the future," he said. "But unfortunately, the proposals we've seen would serve primarily to limit the rights of law-abiding citizens while doing little, if anything, to actually prevent tragedies like this from occurring in the future."
Like the disastrous and unconstitutional Obamacare bill rammed down the throats of the American people, the unconstitutional S. 49 gun bill aimed at the heart of the Second Amendment passed cloture in the Senate with 68 votes despite the fact senators have not had a chance to read it.
Regardless of the enthusiasm to proceed, most senators, including ardent supporters, have not read the bill. "Well, I haven't seen the bill, so I'm going to reserve my concerns," California Democrat Senator Dianne Feinstein told Morning Joe. "I only know what people have told me."
The enemies of your liberty led by Sen. Feinstein do not want the contents of their unconstitutional legislation known to the public because they know if we knew what the bills said, we would reject it outright. These are simply incremental attacks to weaken and eventually overturn the Second Amendment. If passed, universal background checks promoted by these treasonous legislators will establish a national registry that will be used to confiscate firearms.
If you listen to these people, they will tell you that confiscating firearms and banning guns outright are their goal.
Listen to Sen. Feinstein…
"… Mister and Misses America… turn em all in…"
William Kristol knows what is wrong with the United States. As he wrote recently in the flagship magazine of the neo-conservatives, the Weekly Standard, the problem with the US is that we seem to have lost our appetite for war. According to Kristol, the troubles that have befallen us in the 20th century have all been the result of these periodic bouts of war-weariness, a kind of virus that we catch from time to time.
He claims because of the US "drawdown" in Europe after World War II, Stalin subjugated Eastern Europe. Because of war weariness the United States stopped bombing Southeast Asia in the 1970s, snatching defeat from the jaws of victory. War weariness through the 1990s led to Rwanda, Milosevic, and the rise of the Taliban. It was our fault for not fighting on! According to Kristol, our failure to act as the policeman of the world is why we were attacked on September 11, 2001. Of the 1990s, he wrote, "[t]hat decade of not policing the world ended with 9/11."
That revisionism is too much even for fellow neo-conservatives like Paul Wolfowitz to swallow. In a 2003 interview, Wolfowitz admitted that it was the presence of US troops in Saudi Arabia that led to the growth of al-Qaeda:
"(W)e can now remove almost all of our forces from Saudi Arabia. Their presence there over the last 12 years has been a source of enormous difficulty for a friendly government. It's been a huge recruiting device for al Qaeda. In fact if you look at bin Laden, one of his principle grievances was the presence of so-called crusader forces on the holy land, Mecca and Medina."
But for Kristol and his allies there is never enough war. According to a new study by Brown University, the US invasion of Iraq cost some 190,000 lives, most of them non-combatants. It has cost more than $1.7 trillion, and when all is said and done including interest the cost may well be $6 trillion. Some $212 billion was spent on Iraqi reconstruction with nothing to show for it. Total deaths from US war on Iraq, Afghanistan, and Pakistan have been at least 329, 000. None of this is enough for Kristol.
The neo-con ideology promotes endless war, but neo-cons fight their battles with the blood of others. From the comfortable, subsidized offices of magazines like the Weekly Standard, the neo-conservatives urge the United States to engage in endless war – to be fought by the victims of the "poverty draft" from states where there are few jobs. Ironically, these young people cannot find more productive work because the Federal Reserve's endless money printing to keep the war machine turning has destroyed our economy. The six trillion dollars that will be spent on the Iraq war are merely pieces of printed paper that further erode the dollar's purchasing power now and well into the future. It is the inflation tax, which is the most regressive and cruel of all.
Yes, Americans are war weary, concedes Kristol. But he does not blame the average American. The real problem is that the president has dropped the ball on terrifying Americans with the lies and imaginary threats that led to the invasion of Iraq. Writes Kristol: "One can't, for example, be surprised at the ebbing support of the American public for the war in Afghanistan years after the president stopped trying to mobilize their support, stopped heralding the successes of the troops he'd sent there, and stopped explaining the importance of their mission."
If only we had more war propaganda from the highest levels of government we could be cured of this war-weariness. Ten years ago the US invaded Iraq under the influence of neo-conservative lies. Those lies continued to promote US military action in places like Libya, and next on their agenda is Syria and then on to Iran. It is time for the American people to shout "enough!"
Former Congressman Paul's article first appeared at the-free-foundation.org, the temporary home for his weekly column until his personal web page is up and running.
The purpose of the Bill of Rights is to establish a line in the sand that cannot be crossed by government. The founders rightly saw government as an eternal threat against freedom and justice, knowing that all governments inevitably grow out of control like a cancer tumor, always seeking more and more power until they kill the host. The answer to this destructive pattern of dangerous government throughout human history was to place limits on government powerand stake out fundamental rights and freedoms that can never be infringed.
That's the Bill of Rights, the original ten amendments to the Constitution. The Bill of Rights says the government can never ban your free speech, take away your firearms, search your house or your person without a warrant, quarter soldiers in your home without permission, force you to testify against yourself, throw you in prison without a fair trial and so on. Nearly every scholar, when it comes down to it, agrees these are fundamental human rights and civil liberties.
Today's federal government believes the Bill of Rights is optional
But today's government, under both the Bush and Obama administrations, believes it has the power and the right to violate the Bill of Rights when it wants to. Sen. Feinstein, President Obama and Vice President Biden specifically believe the Bill of Rights is only a suggestion, not the law of the land, and so they can selectively ignore it when they want to.
The problem with this philosophy is that if the Second Amendment can be selectively ignored, then so can the First Amendment. Anyone who supports government gun control restrictions — all of which are illegal under the Constitution — must also support the power of the government to ban selected books and websites which do not agree with the White House view of the world. If Obama can have a "kill list" of Americans to assassinate, which he does, then he must also have the power of a "web site kill list" of which websites to seize or take offline.
Guns first, then books and websites
This is not an article about the merits of private firearms ownership, by the way; it's an article about what happens next, if the guns are taken away. If we lose our Second Amendment rights, it's only a matter of time before Obama says something like, "Websites that criticize the government are dangerous and we are going to seize them and shut them down."
What's to stop them from doing so? Nothing! The U.S. government has already seized and shut down thousands of websites it claims are involved in "piracy," shutting them down with no due process, no trial, no jury and not even a search warrant. The government simply invokes some power it has never been granted, then uses that false power to seize entire servers full of websites. This action is blatantly illegal, unconstitutional and tyrannical.
Those who argue in favor of gun control are, in essence, arguing that government has no limits, meaning that government can decide when and where the Bill of Rights applies.
This question was brilliantly asked by U.S. Senator Ted Cruz — a rising star of liberty in the Congress — who leveled the question at Sen. Feinstein, a wicked dictatorial creature of darkness who literally worships enslavement and tyranny. Sen. Cruz asked Feinstein whether she believed the government had the power to selectively ban books it didn't like, to which Feinstein arrogantly answered that she didn't "need to be lectured" like a schoolgirl.
And yet apparently she does, because she fails to misunderstand the entire meaning of the Bill of Rights. She does not understand the words, "shall not be infringed," even though they are written in plain English. Like all other tyrants, Feinstein accepts no limits to her government power, and she plans to expand that power by force, if necessary, to dominate and enslave the people she claims to serve.
Here's a video of that exchange:

Feinstein = Kim Jong-Un = Mao = Stalin = Hitler
Feinstein is the perfect example of where all government eventually leads: the usurpation of power and the trampling on the rights and liberties of the people. If you extrapolate Feinstein out for a few more decades, you get Kim Jong-Un, the sociopathic cult leader of the nation of North Korea, where government is literally worshipped as God and there are absolutely no individual rights or freedoms remaining. Sen. Feinstein would fit right in with Kim Jong-Un's administration because she shares the same philosophy of the government holding all power while the people hold none.
This is yet another reason why holding our ground on the Second Amendment is so important. Obama has already taken away our Fourth and Fifth Amendment rights with his blatantly illegal NDAA. Bush also stole rights away from the people with his Patriot Act. Together, Bush and Obama are the two most dangerous presidents in the history of America due to the way they have claimed federal powers that do not exist while systematically crushing the Bill of Rights.
If we allow the federal government to place aggressive new restrictions on our right to keep and bear arms, then we condone the government's "right" to place restrictions on what books we can read, what websites we can publish and whether we can protest peacefully on a street corner. A government that has no limits respects no freedoms, you see. And if the government can first disarm the population, then what's to stop it from shutting down all websites and alternative media outlets that are critical of government, too?
See, those who believe in gun control also believe, by definition, that private ownership gun rights are "granted" by the government. Therefore, the government can revoke what it previously granted. They do not understand what the Constitution says, which is that all rights are inherently found in the People, and the People selectively grant certain limited powers to the government for the purpose of administering things like the postal service and national defense against foreign enemies. The government does not have unlimited powers, nor does it have the right to take away powers that the People are born with. Any person who believes government has all the power and the People have none is possessed with a radically distorted misunderstanding of history and law. Such ideas as extremely dangerous to liberty, and yet they have infected the minds of a great many voters and lawmakers.
Gun control is illegal
Speaking of law, thanks to the Constitution and the Bill of Rights, gun control is illegal in America. It violates the Bill of Rights and violates the very foundation of America, which is that the People grant certain specific, limited powers to government, and that all government power comes from the People and can be revoked by the People.
Accordingly, any lawmaker engaged in the act of introducing gun control bills or voting for gun control is engaged in a criminal act that violates the highest laws of the land. As such, they should be arrested and prosecuted for acts of sedition — for attempting to "overthrow the People," as it were. Hilariously, the federal government says anyone who is critical of the government "might be a terrorist," but in truth, it's agents of the government who are violating the People who are, by any honest historical accounting, the true danger to a free society.
To be clear, yes, Sen. Dianne Feinsten and every U.S. Senator or member of the House who votes for gun control restrictions that take away the rights of the People is, by definition, a criminal. Under U.S. law, they must be arrested and tried in a court of their peers. If found guilty of attempting to undermine the U.S. Constitution and the rights of the People, they must serve time in prison. Interestingly, the Sheriff of the county in which Dianne Feinstein lives has the power and authority to arrest her right now.
The fact that not one of these criminals has yet been arrested is proof that the criminals run the government. They have now become the enemy of the People, the enemy of the Founding Fathers, and the enemy of America.
This is an important principle to grasp, because every police officer, soldier and even U.S. Senator takes an oath of office in which they swear to "protect America from enemies foreign and domestic." That language is written into the oaths precisely because it is well known that a nation's most dangerous enemies may rise from within.
Is there any better example of an "enemy from within" than Sen. Feinstein? Or Joe Biden? Or Barack Obama? These are "enemies from within" in the sense that they systematically attempting to dismantle the very freedoms upon which this nation was founded. Obama has already stripped away your right to a trial by jury, and he now claims the right to selectively assassinate any American, at any time, even on U.S. soil.
If you are disarmed, how will you defend yourself against a government taking away your First Amendment rights?
If the people allow tyrants like Feinstein, Obama and Biden to take away their Second Amendment rights, then it is only a matter of time before they will also lose their First Amendment rights. If they have long since given up their guns, they will have no way to fight back against the march of tyranny. If you don't stand up for private gun ownership now, then you have no defenses when the government embarks on a runaway criminal takeover the country — a process that is already under way with the DHS purchasing 1.6 billion rounds of ammunition, 7,000+ full-auto assault rifles, and 2,700+ armored assault vehicles, all for use on the streets of America, not in some foreign theater of war.
Those who support Feinstein's gun restrictions are mistakenly assuming that government will not get any worse than it is right now… that government can be trusted to act with integrity and with the best interests of the people in mind. But once you take away a right from the people, it is never returned to them. Government inevitably grows more dominant, more oppressive, more expensive (taxation) and dangerous. As it does so, it attracts increasingly insane leaders who revel in the raw power they command. And sooner or later, perhaps in just a few administrations, it becomes a genocidal regime that sees itself as God.
So allowing the government to take away the guns irreversibly sets our nation on a course leading to the rise of new American Hitler, or an American Kim Jong-Un, or an American Mao. This outcome is inevitable unless you keep government in its box and learn to say NO to endless government expansion.
The power of NO!
The word most desperately needed in America today is "NO!"
NO! You cannot take my rifle.
NO! You cannot force me to buy health insurance I don't want.
NO! You cannot limit my right to peacefully protest on a sidewalk near the President.
NO! You cannot arrest our farmers for selling raw milk.
NO! You cannot use your dirty TSA gloves to stick your fingers in my anus at the airport, you f*#king pervert!
NO! NO! NO!
I find it astonishing that so few Americans are willing to utter the word, "NO!" Yet this is the most powerful word in any free nation. Government must learn its limits, and those limits are ultimately enforced by the People. Sen. Rand Paul's recent filibuster over the President's claimed power to assassinate Americans on U.S. soil with drone strikes is an excellent example of saying "NO!"
Any population that fails to use the word "NO!" is, by default, telling the government, "YES, you may do anything you want!"
All governments will repeatedly and forcefully try to expand their power just like a cancer tumor. They will endlessly test the limits of their power, if any, and try to fabricate new powers that do not exist (like the power to force you to buy health insurance from a corrupt, failed medical system). If you allow government to assume those new powers, then you effectively consent to that particular expansion of power. In doing so, you give up that power yourself.
The only safe government is small government. The only lawful government is a humble government that respects limits of power and understands it serves the people. Today's federal government is none of these things: It is arrogant, spiteful, violent and dangerous. And like all government, it seeks the endless expansion of power until it controls everything: the entire economy, the entire medical system, all websites, all media, all institutions of learning and all powers that once belonged to the People. As Lew Rockwell correctly explains, no government is satisfied with its current level of power… it always seeks MORE power, meaning it incessantly seeks to take that power from the people.
Like fire, government is a dangerous servant and a fearful master. That's a quote from George Washington, the single most important figure in America history. The full quote goes like this:
Government is not reason; it is not eloquent; it is force. Like fire, it is a dangerous servant and a fearful master.
He goes on to say, about firearms:
The very atmosphere of firearms anywhere and everywhere restrains evil interference – they deserve a place of honor with all that's good.
and:
Firearms are second only to the Constitution in importance; they are the peoples' liberty's teeth.
Washington would have had Feinstein arrested and charged with treason
Washington, who commanded militia forces and fought for liberty against an oppressive, tyrannical government, would be appalled at people like Sen. Feinstein. He would have seen her as a dangerous enemy of America, and would have sought her arrest and imprisonment. That Sen. Feinstein calls herself a "United States Senator" who swore an oath to protect the very nation she now attempts to stab in the heart with the dagger of government usurpation is the ultimate insult to a free people.
She is only one of many betrayers — high-level criminals — who represent the same kind of rise of despotic government power that history has shown time and time again to end in genocidal murder and collapse. If America is to save herself from destruction at the hands of people like Feinstein, the People must arrest and prosecute those who behave like Feinstein. To sit in the office of the U.S. Senate and literally conspire to destroy the rights and freedoms of the American people isto function as a criminal enemy from within. It is a violation of law and of the very principles of a free people. It is the ultimately betrayal of not just the people living today, but of the entire history of America and the graves of all those who fought for freedom and justice from the Revolutionary War onward.
Government does not make you safe; it makes you enslaved
We are living in a time of great betrayal, but that betrayal is presented to us as a way to "make us safer." This is always the Devil's offer: Give up your soul, and we'll take care of you. But it is an offer that's fraught with treachery and deception. In saying it will make us "safe," the government will only make us enslaved and defenseless. And it is from this position that the government will then seize upon its monopoly of firepower to claim ALL power over ALL things: books, websites, speech, religion, privacy, health care, biological reproduction, lifespan and more.
Because, by definition a government that respects no limits on its power could decide that the best way to reduce government expenditures and balance the budget is to require all people turn themselves in to be euthanized when they reach the age of 65. That way, all Medicare and social security payments stop, saving the government over a trillion dollars a year. You may think this example sounds ridiculous, but to many Americans, the idea of government taking away their rifles is equally ridiculous. If government has no limits, then what's to stop them from conducting mass-euthanasia campaigns to balance the budget?
Do you see where this can lead? Gun control is the gateway to a hellish future, and any nation foolish enough to walk through that gateway can fully expect to sooner or later be enslaved by a demonic elite class of control freaks whose very philosophies are anti-human.
Article written by Mike Adams
NaturalNews
Ron Paul talks with Geraldo about Rand's stand, McCain/Graham, and Bradley Manning
Filed under Civil Liberties by Patriot
Last week, Senators threatened to put a "hold" on the nomination of John Brennan to be CIA director over his refusal to answer questions about the use of drones to kill Americans on US soil. That the president's nominee to head the agency that has used drones to kill perhaps thousands overseas could not deny their possible use at home should be shocking. How did we get to this point?The Obama administration has rapidly expanded the use of drones overseas, as they appear a way to expand US military action without the political risk of American boots on the ground. In fact they are one of the main reasons a recent Gallup survey of Pakistan, where most US drone strikes take place, found that 92% disapprove of U.S. leadership. This is the lowest approval rate Pakistan citizens have ever given to the United States. And it is directly related to US drone strikes. The risk of blowback increases all the time. However the false propaganda about the success of our drone program overseas leads officials to believe that drones should also be used over US soil as well.
In attempt to ease criticism of the use of drones against Americans, some in Congress propose more oversight, as if that should make us feel any better. In last week's hearings, CIA nominee Brennan suggested that he was open to a Congressional proposal to set up a secret court to oversee the president's program to kill Americans by drone. Should we cheer that a court selected by government officials will meet in secret to oversee the president's secret decisions on killing Americans without charge or trial? Has the Constitution been so eroded that we accept such a horrific and terrifying prospect?
While touting the success of its overseas drone program, the US administration refuses to even admit publicly that the CIA has an overseas drone program. In response to a recent ACLU Freedom of Information request regarding the existence of the CIA's drone program, the Department of Justice responded, ""the very fact of the existence or nonexistence of such documents is itself classified." How is that for government transparency?
Recently, Federal Aviation Administration official, Jim Williams, stated that no armed drones would presently be permitted in US airspace. But what good are the promises of government officials when the Constitution, and especially the Fourth Amendment, has been gutted? More than1,400 applications to use drones in US airspace have been approved, including for police, universities, and at least seven federal agencies. Do we want to live in a society where the government is constantly watching us from above? The East Germans and Soviets could only dream of such technology in the days of their dictatorship. We might ask ourselves how long before "extraordinary" circumstances will lead to a decision to arm those drones over US territory.
The US government justified its attack on Saddam Hussein in Iraq and against Gaddafi in Libya, and elsewhere, with claims that these despots were killing their own citizens without trial or due process. It is true that extra-juridical killing is the opposite of justice in a free society.
As Judge Andrew Napolitano wrote last week about the president's assassination program, "When [the president] kills without due process, he disobeys the laws he has sworn to uphold, no matter who agrees with him. When we talk about killing as if it were golf, we debase ourselves. And when the government kills and we put our heads in the sand, woe to us when there is no place to hide."
Former Congressman Paul's article originally appeared on The-Free-Foundation.org, the temporary home for his weekly column until his personal web page is up and running.
Last year more US troops died by suicide than died in combat in Afghanistan. More than 20 percent of military personnel deployed to combat will develop post-traumatic stress disorder (PTSD). Some 32 percent of US soldiers reported depression after deployments. More than 20 percent of active-duty military are on potentially dangerous psychotropic drugs; many are on multiple types. Violent crime among active duty military members increased 31 percent between 2006-2011.
The statistics, compiled by the military last year, are as telling as they are disturbing. The Defense Department scrambles to implement new programs to better treat the symptoms. They implement new substance abuse and psychological counseling programs while they continue to prescribe more dangerous psychotropic drugs. Unfortunately, most often ignored are the real causes of these alarming statistics.
The sharp rise in military suicides, drug and alcohol abuse, and domestic and other violence, is the unintended consequence of a violent foreign policy – of an endless and indefinable "global war on terrorism."
Particularly in the past decade or so, we have lived in a society increasingly marked by belief in the use of force as a first and only option. We have seen wars of preemption and aggression, everywhere from Iraq to Pakistan to Libya, Yemen, and elsewhere. We have seen an unprecedented increase in the use of drones to kill overseas, often resulting in civilian deaths, which we call "collateral damage." We have seen torture and assassination (even of American citizens) become official US policy. When asked by Senator Ron Wyden last week if the president has the right to assassinate American citizens on US soil, President Obama's nominee to head the CIA, John Brennan, could not even give a straight answer.
The warning that "he who lives by the sword dies by the sword" goes not only for individuals but for entire societies. It is a warning to all of us. A country or a society that lives with the violence of pre-emptive war in fact self-destructs.
Let us not forget that this endless war is brought to us primarily by the neo-conservatives who dominate foreign policy in both political parties and who never cease agitating for US military deployments overseas. Of course with very few exceptions they have declined to serve in the military themselves. These endless wars would not be possible, we should also remember, without the Federal Reserve printing the money out of thin air to finance our overseas empire. We are speeding toward national bankruptcy while at the same time turning the rest of the world against us with our aggressive foreign policy. Does anyone really believe this will make us safer and more secure?
Many who claim to support the military look the other way when the service-members return home broken in mind and body after years of deployments abroad. I served five years as a US military doctor in the difficult 1960s and even then saw some of this first-hand. During the 1960s the consequence of an unwise prolonged war tragically resulted in violence in our streets, and even students being shot by our military at Kent State University.
The truth is, killing strangers in unconstitutional and senseless wars causes guilt to the participant no matter what kind of military indoctrination is attempted. Those afflicted may attempt to bury the pain in alcohol or drugs or other destructive behaviors, but we see that only leads to more problems. It may not be popular to point this out, but it goes against human nature to kill a fellow human being for retaliating against those who initiate a war of aggression on their soil.
Who cares most for those in military service, those who agitate for more of what is destroying their lives and weakening our national defense, or the many of us who are urging a foreign policy of non-intervention and peace? If we are to survive, we must beware the seen and unseen consequences of pre-emptive war.
Article written by by Ron Paul
As I prepare to retire from Congress I'd like to suggest a few New Year's resolutions for my colleagues to consider. For the sake of liberty, peace and prosperity I certainly hope more members of Congress consider the strict libertarian-constitutional approach to government in 2013.
In just a few days, Congress will solemnly swear to support and defend the Constitution of the United States against all enemies, foreign and domestic. They should read Article 1 Section 8 and the Bill of Rights before taking such a serious oath. Most legislation violates key provisions of the Constitution in very basic ways, and if members can't bring themselves to say "no" in the face of pressure from the special interests, they have broken trust with their constituents and violated their oath. Congress does not exist to serve the special interests. It exists to protect the rule of law.
I also urge my colleagues to end unconstitutional wars overseas. Stop the drone strikes. Stop the covert activities and the meddling in the internal affairs of other nations. Strive to observe good faith and justice towards all nations, as George Washington admonished. We are only making more enemies, wasting lives and bankrupting ourselves with the neoconservative interventionist mindset that endorses preemptive war that now dominates both parties.
All foreign aid should end, which is blatantly unconstitutional. While it may be a relatively small part of our federal budget, for many countries it is a large part of theirs and it creates perverse incentives for both our friends and enemies. There is no way members of Congress can know or understand the political, economic, legal and social realities in the many nations to which they send taxpayers' dollars.
Congress needs to stop accumulating more debt. U.S. debt monetized by the Federal Reserve is the true threat to our national security. Revisiting the parameters of Article 1 Section 8 would be a good start.
Congress should resolve to respect personal liberty and free markets. Learn more about the free market and how it regulates commerce and produces greater prosperity ever than any legislation or regulation.
Understand that economic freedom is freedom. Resolve not to get in the way of voluntary contracts between consenting adults. Stop bailing out failed yet politically connected companies and industries. Stop forcing people to engage in commerce when they don't want to, and stop prohibiting them from buying and selling when they want to. Stop trying to legislate your ideas of fairness. Protect property rights. Protect the individual. That is enough.
There are many more resolutions I would like to see my colleagues in Congress adopt, but respect for the Constitution and the oath of office should be at the core of every single member's of Congress due in 2013.
As of late Friday the ceasefire in Gaza seems to be holding, if tentatively. While we should be pleased that this round of fighting appears temporarily on hold, we must realize that without changes in US foreign policy it is only a matter of time before the killing begins again.
It feels like 2009 all over again, which is the last time this kind of violence broke out inGaza. At that time over 1,400 Palestinians were killed, of which just 235 were combatants. The Israelis lost 13 of which 10 were combatants. At that time I said of then-President Bush's role in the conflict:
"It's our money and our weapons. But I think we encouraged it. Certainly, the president has said nothing to diminish it. As a matter of fact, he justifies it on moral grounds, saying, oh, they have a right to do this, without ever mentioning the tragedy of Gaza…. To me, I look at it like a concentration camp."
The US role has not changed under the Obama administration. The same mistakes continue. As journalist Glen Greenwald wrote last week:
"For years now, US financial, military and diplomatic support of Israel has been the central enabling force driving this endless conflict. The bombs Israel drops on Gazans, and the planes they use to drop them, and the weapons they use to occupy the West Bank and protect settlements are paid for, in substantial part, by the US taxpayer…"
Last week, as the fighting raged, President Obama raced to express US support for the Israeli side, in a statement that perfectly exemplifies the tragic-comedy of US foreign policy. The US supported the Israeli side because, he said, "No country on Earth would tolerate missiles raining down on its citizens from outside its borders." Considering that this president rains down missiles on Yemen, Afghanistan, Pakistan, and numerous other countries on a daily basis, the statement was so hypocritical that it didn't pass the laugh test. But it wasn't funny.
US Secretary of State Hilary Clinton traveled to Tel Aviv to meet with Israeli prime minister Netanyahu, but she refused to meet with elected Palestinian leaders. Clinton said upon arrival in Israel, "America's commitment to Israel's security is rock-solid and unwavering." Does this sound like an honest broker?
At the same time Congress acted with similar ignobility when an unannounced resolution was brought to the House floor after the business of the week had been finished; and in less than 30 seconds the resolution was passed by unanimous consent, without debate and without most Representatives even having heard of it. The resolution, H Res 813, was so one-sided it is not surprising they didn't want anyone to have the chance to read and vote on it. Surely at least a handful of my colleagues would have objected to language like, "The House of Representatives expresses unwavering commitment to the security of the State of Israel as a Jewish and democratic state with secure borders…"
US foreign policy being so one-sided actually results in more loss of life and of security on both sides. Surely Israelis do not enjoy the threat of missiles from Gaza nor do the Palestinians enjoy their Israel-imposed inhuman conditions in Gaza. But as long as Israel can count on its destructive policies being underwritten by the US taxpayer it can continue to engage in reckless behavior. And as long as the Palestinians feel the one-sided US presence lined up against them they will continue to resort to more and more deadly and desperate measures.
Continuing to rain down missiles on so many increasingly resentful nations, the US is undermining rather than furthering its security. We are on a collision course with much of the rest of the world if we do not right our foreign policy. Ending interventionism in the Middle East and replacing it with friendship and even-handedness would be a welcome first step.
Rep. Ron Paul's post first appeared on his House website.