On Friday, President Trump signed the omnibus spending bill for 2018. The $1.3 trillion bill was so monstrous that it would have made the biggest spender in the Obama Administration blush. The image of leading Congressional Democrats Pelosi and Schumer grinning and gloating over getting everything they wanted — and then some — will likely come back to haunt Republicans at the midterm elections. If so, they will deserve it.
Even President Trump admitted the bill was horrible. As he said in the signing ceremony, "there are a lot of things that we shouldn't have had in this bill, but we were, in a sense, forced — if we want to build our military…"
This is why I often say: forget about needing a third political party – we need a second political party! Trump is admitting that to fuel the warfare state and enrich the military-industrial complex, it was necessary to dump endless tax dollars into the welfare state.
But no one "forced" President Trump to sign the bill. His party controls both houses of Congress. He knows that no one in Washington cares about deficits so he was more than willing to spread some Fed-created money at home to get his massive war spending boost.
And about the militarism funded by the bill? Defense Secretary James Mattis said at the same press conference that, "As the President noted, today we received the largest military budget in history, reversing many years of decline and unpredictable funding."
He's right and wrong at the same time. Yes it is another big increase in military spending. In fact the US continues to spend more than at least the next seven or so largest countries combined. But his statement is misleading. Where are these several years of decline? Did we somehow miss a massive reduction in military spending under President Obama? Did the last Administration close the thousands of military bases in more than 150 countries while we weren't looking?
Of course not.
On militarism, the Obama Administration was just an extension of the Bush Administration, which was an extension of the militarism of the Clinton Administration. And so on. The military-industrial complex continues to generate record profits from fictitious enemies. The mainstream media continues to play the game, amplifying the war propaganda produced by the think tanks, which are funded by the big defense contractors.
This isn't a conspiracy theory. This is conspiracy fact. Enemies must be created to keep Washington rich, even as the rest of the country suffers from the destruction of the dollar. That is why the neocons continue to do very well in this Administration.
While Trump and Mattis were celebrating big military spending increases, the president announced that John Bolton, one of the chief architects of the Iraq war debacle, would become his national security advisor. As former CIA analyst Paul Pillar has written, this is a man who, while at the State Department, demanded that intelligence analysts reach pre-determined conclusions about Iraq and WMDs. He cooked the books for war.
Bolton is on the record calling for war with Iran, North Korea, even Cuba! His return to a senior position in government is a return to the unconstitutional, immoral, and failed policies of pre-emptive war.
Make no mistake: the neocons are back and looking for another war. They've got the president's ear. Iran? North Korea? Russia? China? Who's next for the warmongers?
Written by Ron Paul
Reprinted with permission by The Ron Paul Institute for Peace and Prosperity.


Here is a great presentation on the value of money and why Constitutional money is so important in our out-of-control economy.
Meaning of the Gold Price
by Dr. Ron Paul
A recent headline in the financial press announced that gold prices surged over concern that confrontation with Iran will further push oil prices higher. This may well reflect the current situation, but higher gold prices mainly reflect monetary expansion by the Federal Reserve. Dwelling on current events and their effect on gold prices reflects concern for symptoms rather than an understanding of the actual cause of these price increases. Without an enormous increase in the money supply over the past 35 years and a worldwide paper monetary system, this increase in the price of gold would not have occurred.
Certainly geo-political events in the Middle East under a gold standard would not alter its price, though they could affect the supply of oil and cause oil prices to rise. Only under conditions created by excessive paper money would one expect all or most prices to rise. This is a mere reflection of the devaluation of the dollar.
Particular things to remember:
If one endorses small government and maximum liberty, one must support commodity money.
One of the strongest restraints against unnecessary war is a gold standard.
Deficit financing by government is severely restricted by sound money.
The harmful effects of the business cycle are virtually eliminated with an honest gold standard.
Saving and thrift are encouraged by a gold standard; and discouraged by paper money.
Price inflation, with generally rising price levels, is characteristic of paper money. Reports that the consumer price index and the producer price index are rising are distractions: the real cause of inflation is the Fed's creation of new money.
Interest rate manipulation by central bank helps the rich, the banks, the government, and the politicians.
Paper money permits the regressive inflation tax to be passed off on the poor and the middle class.
Speculative financial bubbles are characteristic of paper money– not gold.
Paper money encourages economic and political chaos, which subsequently causes a search for scapegoats rather than blaming the central bank.
Dangerous protectionist measures frequently are implemented to compensate for the dislocations caused by fiat money.
Paper money, inflation, and the conditions they create contribute to the problems of illegal immigration.
The value of gold is remarkably stable.
The dollar price of gold reflects dollar depreciation.
Holding gold helps preserve and store wealth, but technically gold is not a true investment.
Since 2001 the dollar has been devalued by 60%.
In 1934 FDR devalued the dollar by 41%.
In 1971 Nixon devalued the dollar by 7.9%.
In 1973 Nixon devalued the dollar by 10%.
These were momentous monetary events, and every knowledgeable person worldwide paid close attention. Major changes were endured in 1979 and 1980 to save the dollar from disintegration. This involved a severe recession, interest rates over 21%, and general price inflation of 15%.
Today we face a 60% devaluation and counting, yet no one seems to care. It's of greater significance than the three events mentioned above. And yet the one measurement that best reflects the degree of inflation, the Fed and our government deny us. Since March, M3 reporting has been discontinued. For starters, I'd like to see Congress demand that this report be resumed. I fully believe the American people and Congress are entitled to this information. Will we one day complain about false intelligence, as we have with the Iraq war? Will we complain about not having enough information to address monetary policy after it's too late?
If ever there was a time to get a handle on what sound money is and what it means, that time is today.
Inflation, as exposed by high gold prices, transfers wealth from the middle class to the rich, as real wages decline while the salaries of CEOs, movie stars, and athletes skyrocket– along with the profits of the military industrial complex, the oil industry, and other special interests.
A sharply rising gold price is a vote of "no confidence" in Congress' ability to control the budget, the Fed's ability to control the money supply, and the administration's ability to bring stability to the Middle East.
Ultimately, the gold price is a measurement of trust in the currency and the politicians who run the country. It's been that way for a long time, and is not about to change.
If we care about the financial system, the tax system, and the monumental debt we're accumulating, we must start talking about the benefits and discipline that come only with a commodity standard of money– money the government and central banks absolutely cannot create out of thin air.
Economic law dictates reform at some point. But should we wait until the dollar is 1/1,000 of an ounce of gold or 1/2,000 of an ounce of gold? The longer we wait, the more people suffer and the more difficult reforms become. Runaway inflation inevitably leads to political chaos, something numerous countries have suffered throughout the 20th century. The worst example of course was the German inflation of the 1920s that led to the rise of Hitler. Even the communist takeover of China was associated with runaway inflation brought on by Chinese Nationalists. The time for action is now, and it is up to the American people and the U.S. Congress to demand it.
Filed under Economy, Federal Reserve by Patriot
by Ron Paul
Working Americans like lower taxes. So do I. Lower taxes benefit all of us, creating jobs and allowing us to make more decisions for ourselves about our lives.
Whether a tax cut reduces a single mother's payroll taxes by $40 a month or allows a business owner to save thousands in capital gains taxes and hire more employees, that tax cut is a good thing. Lower taxes allow more spending, saving, and investing which helps the economy — that means all of us.
Real conservatives have always supported low taxes and low spending.
But today, too many politicians and lobbyists are spending America into ruin. We are nine trillion dollars in debt as a nation. Our mounting government debt endangers the financial future of our children and grandchildren. If we don't cut spending now, higher taxes and economic disaster will be in their future — and yours.
In addition, the Federal Reserve, our central bank, fosters runaway debt by increasing the money supply — making each dollar in your pocket worth less. The Fed is a private bank run by unelected officials who are not required to be open or accountable to "we the people."
Worse, our economy and our very independence as a nation is increasingly in the hands of foreign governments such as China and Saudi Arabia, because their central banks also finance our runaway spending.
We cannot continue to allow private banks, wasteful agencies, lobbyists, corporations on welfare, and governments collecting foreign aid to dictate the size of our ballooning budget. We need a new method to prioritize our spending. It's called the Constitution of the United States.
Filed under Federal Reserve, Taxes by Patriot
Here is an interesting video of a presentation by Ron Paul at the "Birth and Death of the Fed" conference at Jekyll Island, Georgia, 27 Febuary 2010. Includes an introduction by Mises Institute founder and chairman Llewellyn H. Rockwell, Jr., and closing remarks by Institute president Douglas E. French.
The descent of US/North Korea "crisis" to the level of schoolyard taunts should be remembered as one of the most bizarre, dangerous, and disgraceful chapters in US foreign policy history.
President Trump, who holds the lives of millions of Koreans and Americans in his hands, has taken to calling the North Korean dictator "rocket man on a suicide mission." Why? To goad him into launching some sort of action to provoke an American response? Maybe the US president is not even going to wait for that. We remember from the Tonkin Gulf false flag that the provocation doesn't even need to be real. We are in extremely dangerous territory and Congress for the most part either remains asleep or is cheering on the sabre-rattling.
Now we have North Korean threats to detonate hydrogen bombs over the Pacific Ocean and US threats to "totally destroy" the country.
We are told that North Korean leader Kim Jong-Un is a "madman." That's just what they said about Saddam, Gaddafi, Assad, and everyone else the neocons target for US military action. We don't need to be fans of North Korea to be skeptical of the war propaganda delivered by the mainstream media to the benefit of the neocons and the military industrial complex.
Where are the cooler heads in Washington to tone down this war footing?
Making matters worse, there is very little understanding of the history of the conflict. The US spends more on its military than the next ten or so countries combined, with thousands of nuclear weapons that can destroy the world many times over. Nearly 70 years ago a US-led attack on Korea led to mass destruction and the death of nearly 30 percent of the North Korean population. That war has not yet ended.
Why hasn't a peace treaty been signed? Newly-elected South Korean president Moon Jae-in has proposed direct negotiations with North Korea leading to a peace treaty. The US does not favor such a bilateral process. In fact, the US laughed off a perfectly sensible offer made by the Russians and Chinese, with the agreement of the North Koreans, for a "double freeze" – the North Koreans would suspend missile launches if the US and South Korea suspend military exercises aimed at the overthrow of the North Korean government.
So where are there cooler heads? Encouragingly, they are to be found in South Korea, which would surely suffer massively should a war break out. While US Ambassador to the United Nations, Nikki Haley, was bragging that the new UN sanctions against North Korea would result in a near-complete blockade of the country (an act of war), the South Korean government did something last week that shocked the world: it announced an eight million dollar humanitarian aid package for pregnant mothers and infant children in North Korea. The US and its allies are furious over the move, but how could anyone claim the mantle of "humanitarianism" while imposing sanctions that aim at starving civilians until they attempt an overthrow of their government?
Here's how to solve the seven-decade old crisis: pull all US troops out of North Korea; end all military exercises on the North Korean border; encourage direct talks between the North and South and offer to host or observe them with an international delegation including the Russians and Chinese, which are after all Korea's neighbors.
The schoolyard insults back and forth between Donald Trump and Kim Jong-Un are not funny. They are in fact an insult to all of the rest of us!
This article first appeared on ronpaulinstitute.org
by Ron Paul
Today, the federal government burdens us with one of the most dangerous taxes it can impose — the inflation tax. When the federal government finds that it cannot afford its out-of-control spending, and is unwilling to directly tax the public, it resorts simply to creating the money out of thin air.
Inflating the money supply is the easiest form of financing the government. The Federal Reserve, an unelected and unaccountable private organization, pumps more dollars into the economy whenever it chooses. Because the public is forced to accept these bills, the Fed essentially gets away with legally counterfeiting. We cannot possibly expect the government to control spending when it has a blank checkbook.
This greatly benefits the politicians and special interests — they are able to finance the massive welfare-warfare state. But how does this inflation affect you?
Basic economics tells us that the more there is of a good, the less valuable it becomes. This is also true of money. The dollar is worth four cents of what it was when the Federal Reserve was created in 1913.
Day by day, every dollar you have is being devalued. You pay an inflation tax without even realizing it because you are forced by a falling dollar to pay more for goods and services.
The disastrous fiscal policies of our own government, marked by shameless deficit spending and Federal Reserve currency devaluation, are some of the greatest threats facing our nation today. It is this one-two punch — Congress spending more than it can tax or borrow, and the Treasury printing money to make up the difference — that threatens to impoverish us by further destroying the value of our dollars.
By legalizing competing currencies, we can end the Federal Reserve's stranglehold on our money supply and begin to restore value to the dollar. But Congress will continue to spend extravagantly until we the people make our views known at the ballot box.

Just one week in office, President Trump is already following through on his pledge to address illegal immigration. His January 25th executive order called for the construction of a wall along the entire length of the U.S.-Mexico border. While he is right to focus on the issue, there are several reasons why his proposed solution will unfortunately not lead us anywhere closer to solving the problem.
First, the wall will not work. Texas already started building a border fence about ten years ago. It divided people from their own property across the border, it deprived people of their land through the use of eminent domain, and in the end the problem of drug and human smuggling was not solved.
Second, the wall will be expensive. The wall is estimated to cost between 12 and 15 billion dollars. You can bet it will be more than that. President Trump has claimed that if the Mexican government doesn't pay for it, he will impose a 20 percent duty on products imported from Mexico. Who will pay this tax? Ultimately, the American consumer, as the additional costs will be passed on. This will of course hurt the poorest Americans the most.
Third, building a wall ignores the real causes of illegal border crossings into the United States. Though President Trump is right to prioritize the problem of border security, he misses the point on how it can be done effectively and at an actual financial benefit to the country rather than a huge economic drain.
The solution to really addressing the problem of illegal immigration, drug smuggling, and the threat of cross-border terrorism is clear: remove the welfare magnet that attracts so many to cross the border illegally, stop the 25 year U.S. war in the Middle East, and end the drug war that incentivizes smugglers to cross the border.
The various taxpayer-funded programs that benefit illegal immigrants in the United States, such as direct financial transfers, medical benefits, food assistance, and education, cost an estimated $100 billion dollars per year. That is a significant burden on citizens and legal residents. The promise of free money, free food, free education, and free medical care if you cross the border illegally is a powerful incentive for people to do so. It especially makes no sense for the United States government to provide these services to those who are not in the U.S. legally.
Likewise, the 40 year war on drugs has produced no benefit to the American people at a great cost. It is estimated that since President Nixon declared a war on drugs, the US has spent more than a trillion dollars to fight what is a losing battle. That is because just as with the welfare magnet, there is an enormous incentive to smuggle drugs into the United States.
We already know the effect that ending the war on drugs has on illegal smuggling: as more and more U.S. states decriminalize marijuana for medical and recreational uses, marijuana smuggling from Mexico to the U.S. has dropped by 50 percent from 2010.
Finally, the threat of terrorists crossing into the United States from Mexico must be taken seriously, however once again we must soberly consider why they may seek to do us harm. We have been dropping bombs on the Middle East since at least 1990. Last year President Obama dropped more than 26,000 bombs. Thousands of civilians have been killed in U.S. drone attacks. The grand U.S.plan to "remake" the Middle East has produced only misery, bloodshed, and terrorism. Ending this senseless intervention will go a long way toward removing the incentive to attack the United States.
I believe it is important for the United States to have secure borders, but unfortunately President Trump's plan to build a wall will end up costing a fortune while ignoring the real problem of why people cross the borders illegally. They will keep coming as long as those incentives remain.
Article written by Dr. Ron Paul
Former Congressman and Libertarian icon Ron Paul has warned that 'shadow government' neocons could orchestrate a 'false flag' incident in order to drag new president Donald Trump into a fresh war.
"I don't how anybody can say they know what is going to happen," Paul told The Daily Caller, referring to Trump's foreign policy.
"All we need is a false flag and an accident and everybody will be for teaching them a lesson," Paul said, warning that such an event could trigger new foreign entanglement.
"The neocons always talked about it before 9/11 they kept saying, 'we aren't going to get our program in until we have a Pearl Harbor event,'" the former congressman stated, stopping short of saying he believes those attacks were staged.
"I think other countries could use false flags." Paul also added.
Paul also warned that a shadow government will continue to operate when Trump is president, just as it did during Obama's time in office.
"Obama probably was much more attune to a different foreign policy of less aggression but why then does he do it?" Paul said.
"I think there's the shadow government, the military-industrial complex, the CIA, and all the things that can be done because they just melt away and they do exactly what the establishment says." the former Congressman added.
Paul warned that those within the shadow government are seeking to influence Trump now.
"He's very friendly with a lot of them right now, he's talking to them," Paul said, adding that "We don't have a final answer, we have to wait to see who get's appointed."
"He doesn't talk about blowback and coming out of these countries. He has a better policy with Russia but I think he still is talking with the neoconservatives." Paul also stated.
"The deep state is very very powerful and they have a lot of control," Paul said, adding "That is one of my big issues about how shadow government is so powerful in all administrations."
Earlier this month, Paul issued the same warnings, saying that neocons and shadow government figures are going to attempt to infiltrate and influence Trump's presidency and prevent him from achieving successful change.
Article written by Steve Watson | Infowars.com
Gun control or controlling the availability of gun as a weapon of defense is one of the most blatant laws ever. It advocates severely restricting the availability of a gun to the citizens of America. Does it mean that the citizens of America are too casual or ill tempered that they will not be able to handle a gun? The answer is no. The groups who have been advocating the gun control norms have always speculated that the crime rate is directly linked to the availability of guns. But how is this possible? Can you reduce drinking and alcoholics if you ban or restrict the availability of alcohol? The answer is again no.
Crime Rate And Gun Control
If ever, there has been an absurd theory then this one is amongst them. Crime rate and gun control are not liked in any way. A person who intends to commit a murder or homicide can do it in any way he wishes to. He doesn't need a gun to do it. Even the bare hands can be used to kill. So why only restrict guns? The gun control laws should be broadened further. Possession of anything that can be termed as a weapon which may include the kitchen knife should be restricted. Whether it is concealed or carried openly doesn't really matter.
The Ideal Safety Device
What matters is the fact that guns are a more ideal weapon for safety. After all you cannot run to the kitchen to look for a knife if there is a sudden attack or threat on your life. But the attacker can already posses it, because he has planned it well beforehand. So the gun control law which is aimed at reducing crime is actually reducing the ability of the average American citizen to protect himself more effectively. If only the government would look at bringing in more effective laws for crime control or even enforce the laws already in existence, the whole scenario wouldn't be so bleak.
Now, gun control norms are so stringent that they include licensing, long waiting sessions etc. It is no longer an easy task so there are very few who are willing to go through the trouble to get a gun as a safety device. They have started to look at other safety measures which are less effective.
Get your federal firearms license today.
But they have to comply with the laws. Each year more than 14,000 homicides take place in the United States which are not carried out with a gun. This raises a lot of doubts about the effectiveness of the gun control laws. If a law is not useful or is actually harming us, why have it in the first place? This article makes a plea for the removal of this law which seems to have many advocates in the socio political circle.
Filed under Civil Liberties by Patriot
Have you paid any attention to what happened with the financial crisis in Greece or that which is occurring across Europe? If so, then you know that economic collapse isn't just a threat – it's already begun. You wouldn't necessarily believe that from reading the news.
The mainstream media doesn't have access to the top secret insider information that the government does. The truth is that trouble is already knocking on our door. Take a look around at what's going on in the world.
Debts in countries all over the world has skyrocketed. Not one single country is fiscally solvent and yet all of these countries keep going further into debt and printing more money like there will never be any consequences.
But there will be a reckoning when economic collapse happens and when it does, it's not going to be pretty. Once the global economy goes belly up, you're going to see lives thrown off balance and the upheaval is going to become a fight for survival. Sadly, not everyone will survive because they're not prepared.
When the economy fails, people are going to panic. Their normal life is going to suddenly, and without ample warning, become disrupted. When the collapse happens, people by the millions are going to rush to their banks in a desperate attempt to take out their money.
But the government, also desperate to keep the collapse from spreading, will limit or shut down completely the ability of people to withdraw their own money. Without being able to get their hands on money, people will grow even more panicked.
Crimes will rise as people steal, fight and even kill for a way to survive. Riots will become more commonplace. Looting will take place in every single city and town. Property and people alike will be destroyed.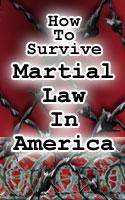 Martial law will go into effect.
Your freedom to move about freely will be limited. You won't be allowed to go where you want to go when you want to go there. You'll have to be home by a certain time and your rights will no longer matter.
Under martial law, regular laws are suspended. You will do as the government says. That's why you need to protect yourself from economic collapse right now. Make sure that all of your money isn't tied up in the bank.
Have some cash that you can get to so that you can buy what you haven't already set aside.
Have some gold and silver that can be used if cash is totally devalued.  Precious metals will easily be used as barter for necessary supplies.
Keep your bug out bag ready to roll so that you can get out of an area the minute the trouble starts.
Have a place to go if needed that contains all of the survival supplies you need to hunker in place for awhile if you have to. That means you need to have your food, medicine and a way to communicate with others.
The power grid could eventually go down in an economic collapse and you don't want to be without a way to communicate. Make sure you have a renewable water supply near. Have ways to defend yourself and your family from those who could take your supplies or your life.